Our American Story
We invite you to join us to continue our mission to provide only the best American-made clothing to keep jobs here in America.

Welcome to the 2019 line from All American Khakis! We are in the middle of a technological revolution, and the apparel industry has not been immune to the new and exciting changes that have engulfed us all. AAK is bringing innovative new products to the market while also continuing to provide the timeless classics that have become staples of our collection.
The AAK Tech I Pant is a true showstopper in every sense of the word. Constructed of a completely water and stain repellant material, the Tech I is truly a sight to behold. Combine that with being wrinkle free, and you get a pant that will always look brand new under any circumstance. If that's not enough, 4-way stretch and moisture wicking is added for ultimate comfort.
Also new in 2019 is the Dahlonega Canvas. A 100% cotton canvas fabric is carefully crafted and sanded for an extremely soft feel. At over 8 ounces, the canvas is built to last and will continue to soften with every wash.
Also of note is a new color added to our Cramerton Twill. Along with our 5 Cramerton colors, Navy Blue has been added to the line for an even greater color choice to this classic.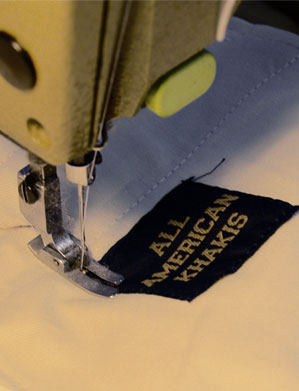 "Our goal from the beginning was simple: to create second to none quality, made in the USA clothing, and to do our part to keep jobs here in America."

The more things change, some things will always remain the same. That includes the fact that All American Khakis continues to provide the best quality, made in USA apparel available today. Every pair purchased from us is a guarantee that you are supporting American manufacturing and apparel jobs. We cannot thank you enough for your continued support. The next American revolution is just getting started!
Special Services

• Private Label: Do you have your own label or interested in starting one? All American Khakis can do it for you.
• Custom Embroidery: Have your logo placed on your products to your specifications.
• Hemming: All American Khakis can hem to any length you prefer.